Dear Friend,
This is one of the most amazing courses I have ever published or been a part of. Literally within hours or days of using this program, people get immediate results measurable in cold hard cash.
Even I "magically" create more money after I listen to this program using the closed eye process described on this audio soundtrack. There is no limited to power of your mind, once you learn to focus and attract using this amazing method.
The techniques and concepts explained on this course is perhaps the reason I have achieved the level of financial independence I have at such a young age. I've been using time line meditation techniques for over 15 years, and still use them.
Thoughts do create your reality. This program teaches you HOW to think your dreams into reality. And, it is particularly effective relating to attracting more cash.
This breakthrough mental programming audio product will open your mind to new ways of thinking about money while attracting wealth and abundance in every area of your life.
It doesn't matter what career or job you have now or how much (or how little) money you are making currently. Your mind has the power to open new doors and find ways to create wealth.
This mental imagery programming tape unlocks those doors and breaks down limiting beliefs using the power of NLP, Hypnosis, and Time Line Guided Mental Imagery. If you've read my book "The Success Secrets of the Rich and Happy", then you already know the "biological reasons" something like this is so effective. If not, you will still benefit with each listen.
The Double Your Income is a two part program (2CDs).

The first part is a discussion/ lecture about wealth and the belief systems that surround money and abundance. You will learn how you can overcome a lifetime of limiting programming using just your own mind.
Part two of the Double Your Income Program is a closed eye process where you use your own internal "Time Line" to install new events and future earnings into your own unconscious mind.
The mental imagery technique called TIME LINE is an advanced technique that is very powerful and effective if performed properly.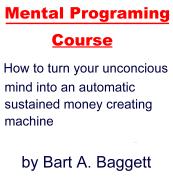 To insure you follow along properly in your mind's eye... please listen the two introductory soundtracks that completely explain and assist you in eliciting your own internal time line. After you have listened to both of these soundtracks, then you can listen to the guided mental imagery section of the Double Your Income Course.
As a bonus, you can listen to the audio "Discovering Your Internal Time Machine - Session" anytime in the future to install ANY goal or desire into your unconscious mind. You might find yourself listening to this audio file 4 years from now, manifesting something totally new.
And, as with all of our products, you have an unconditional money back guarantee! I know you will like it.
Enjoy!
P.S. This program was originally published online in the digital format of Real Audio (which is a free audio computer format). However, mp3 files will be available for download within a few days (our tech people are working on it.) You can also have the CD's shipped to you.

P.S. This CD is a great compliment to my latest book "The Success Secrets to the Rich & Happy." Also, available as an instant PDF format Book download. Only $19.95 more.